If you work as a tradie or onsite for a decent amount of time, it is safe to say you know what a safety boot is; you probably already have your favourite brand from which you get all your gear. However, it can be difficult to know which brand of safety boot to pick or even what classifies as a safety boot. This is why we're here to help with our tips for picking your new workwear or safety boots.
What is a safety boot?
The core of a safety boot is the toe protection, and is probably the reason you have heard terms like "steel cap" or "composite cap" boot thrown around. Steel cap is the traditional method for toe protection, where manufactures use steel to create a box that covers your toes. Steel Blue Boots has been using steel toe protection in their boots since their first pair in 1995. However, this is not the only toe protection available; CAT Inc, FXD and many other brands have composite toe protection, which is lighter weight material but just as strong protection as a steel toe cap. The CAT's Propulsion work boots and the FXD WB-1 CT Safety Boot both have a composite toe which helps make them lighter weight.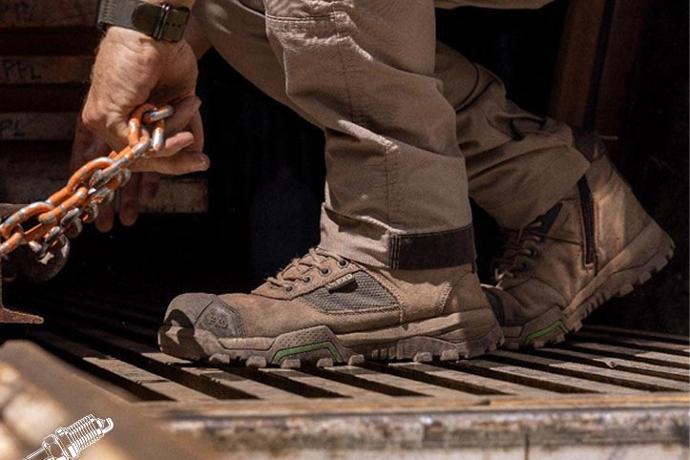 Obviously, toe protection is core, but safety boots are the sum of their parts. Many safety boots offer features such as penetration protection, Slip, oil and heat resistance, chemical resistance, water resistance, and electricity insulating footwear. All these features might seem overwhelming at first glance, but these are standard in most safety boots due to the little thing called "AS2210.3 2019" the Personal Protective Equipment Safety Footwear.
Personal Protective Equipment Safety Footwear or AS2210.3 2019
One way to ensure the boot is built for safety on the worksite is if it follows the Personal Protective Equipment Safety Footwear set out under the code AS2210.3 2019, which defines a safety boot to require a toe cap that protects against the impact of 200 joules and a compression of 15 kilonewtons. In simpler terms, to protect your toes from a 20-kilogram item falling from 1 meter directly onto your foot and with the compression weight (resting weight) of 1.5 tonnes. Below are examples of what you will find in the tongue of your safety boot for CAT Inc. and FXD: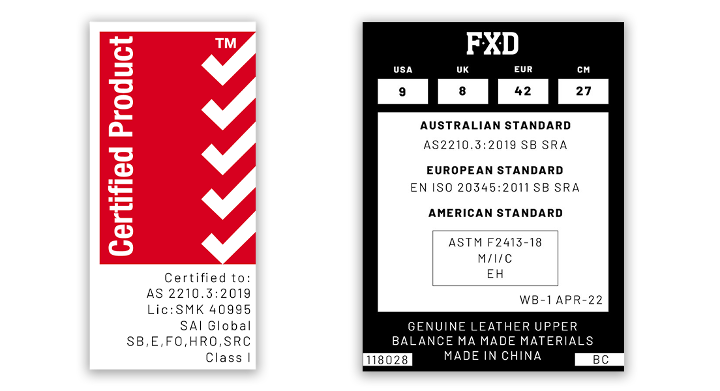 As you can see, both companies clearly state that their safety boot product has been tested and put through the ringer to withstand the conditions of working onsite for any trade in any profession.
ManCave Tips
With so many safety boots on offer, it can be hard to know what safety boots to pick. Here are three of our tips to help you choose the right boot:
Always make sure your boot is certified under the Australian standard AS2210.3 2019.

Ensure you pick one with style and comfort. You want to look good and feel good while working.

Lean towards boots that offer features and benefits that align with your job and meet your personal needs.
Every brand offers its unique style on a safety boot, but they will always ensure you have the best possible safety when onsite. ManCave provides a wide collection online and in-store, so whether you want the convenience of an online purchase or full spec in store experience by one of our Booticians, ManCave has you covered - shop boots online or see store locations.