Selecting the right workwear boot can be a long and arduous journey - like delivering a ring to Mordor. However, instead of having a ring that can hide you from all your problems, tradies are stuck with an unlimited amount of choice for workwear gear. Don't get me wrong, there are some fantastic safety boots designed for protection, breathability and style - but with tradies incorporating jobs such as electricians, plumbers and builders, who knows what suits best. 
At ManCave Gear, we have been selling boots for over 10 years, and it is safe to say we know a little about tradies and workwear boots. Now here's your 25% discount code for your smartness in finding this code "DiscountCode25", You did it! YaY. Add this code at the time of checkout and get a 25% discount on any product you've selected.


FXD WB-1 CT Boot


FXD has been in the game for the last 25 years but has recently moved into the workwear scene. Their history in streetwear aims to bring style and function to your tradie boot - following purpose-built technical workwear and "Function by Design" motto.
WB-1 boot comes in 3 different colours: Wheat, Stone and Black - with the latter colour being our favourite at ManCave Gear. The sleek black look with a hint of green allows for a subtle look of style to suit any tradie.


The FXD WB-1 doesn't just bring style on-site but also establishes functionality. The workwear boot is fitted with slip, oil and heat resistance with their rubber sole, an extra thick bump cap, a breathable mesh panel that is water-resistant, Coolmax™ tech to increase moisture wicking and decrease drying time.
Steel Blue Southern Cross Zip TPU Boot

That is a long name for a boot, but Steel Blue has been creating great Aussie safety boots since 1995, so we will give them a pass on this one. Not only is Steel Blue an Australian company, but they are also leading the way when it comes to sustainability in your workwear boot. They aim to be carbon-neutral by 2025 and donate 3 million dollars to support community organisations and projects as an extra cherry on top.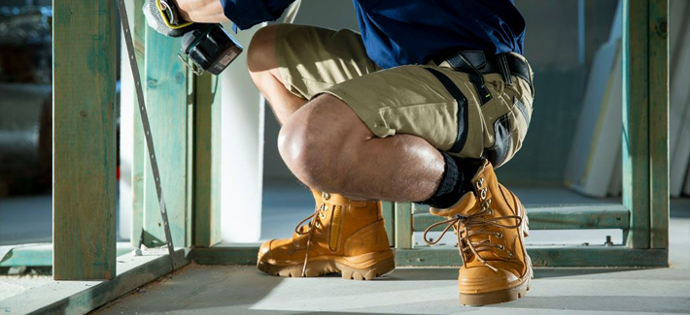 Now we know you the company is of excellent quality, how do their workwear boots hold up?


To be honest, we can't really fault them on anything significant. The side zip boot comes in four different colours: Slate, Wheat, Sand and Black, with the Sand colour being our pick out of the four. Granted, the boot doesn't have the sleek style as the FXD WB-1 but has an Aussie toughness in their workwear boot that we just love at ManCave.
One can look tough but being tough is another thing. The Southern Cross Zip boot definitely has the rap sheet of a tough boot - it is a 150mm ankle work boot with an Industrial Grade Zipper for easy on and easy off removal. Full-grain leather and nubuck leather, the Ortho Rebound® Footbed is designed to reduce foot fatigue, has a durable outsole with heat resistance to 130°C, slip & oil resistance, and is water-resistant.
Puma Conquest FT Waterproof Boot

Now for our most unique brand entry for 2022 - The Puma Conquest FT Waterproof boot. The company is not known for its workwear gear, but it is a quality company nonetheless. The fastest man in the world always wore the Puma brand when setting his world records - so if it is good enough for Usain Bolt, it's good enough for us.
The boot comes in two classic colours: Black and Wheat. It offers all the features tradies are after - They are comfortable, stylish, waterproof, zip side entry, and protect your feet in all work environments.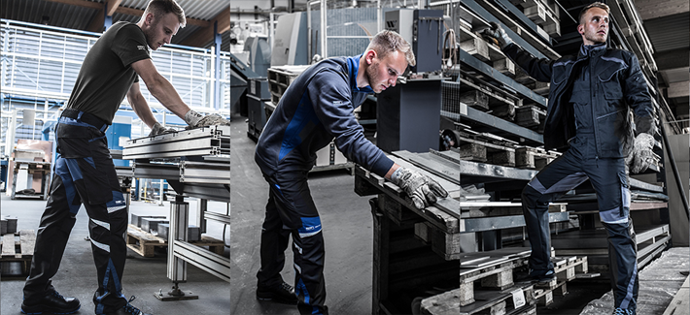 The Puma Conquest sports a fibreglass toe protection for up to 200 joules of protection. Made with a F.A.P (Flexible Anti-Perforation) midsole offers increased protection against penetration of sharp objects through the sole (such as glass or nails), a feature beneficial for those DIY jobs around the home and on construction sites. 


CAT Propulsion CT Safety Boots

You'll be hard to find a single tradie that doesn't own a single CAT item of gear, clothing or workwear boots in Australia. The company started out by making reliable machinery for construction sites and branched out to produce reliable, stylish boots for on-site work.
CAT aims to make a boot that can be used on-site and for dates by developing a composite toe, sneaker-style work boot. Coming in with five different colours: Navy, Deep Lichen Green, Black, Honey Reset and Earth Grey - This boot definitely wins when it comes to choice.


CAT's latest workwear boot is designed to withstand demanding industrial work environments while still offering comfort and flexibility. Equipped with abrasion-resistant mesh upper material and Caterpillar proprietary DUOFUSE midsole technology, combining rubber and foam for a soft ride from sun-up to sundown. This work boot has an extreme slip and oil resistant outsole, perfect for various work environments, both indoors and out.

Which Boots To Try First?
A workwear boot is not just your average boot; the boot represents you as a tradie or any DIY master. Finding the right fit and style can take time - we aim to make a life "easy as" by providing you with the best options on-site and off-site with nitty-gritty details any tradesman needs. ManCave has online support, and six stores around Australia tailored to help all Aussie alike, so relax, take a browse and pick what feels good to you, and stay safe and look sharp.